Skip to Content
Get to Know Medical Cannabis Outreach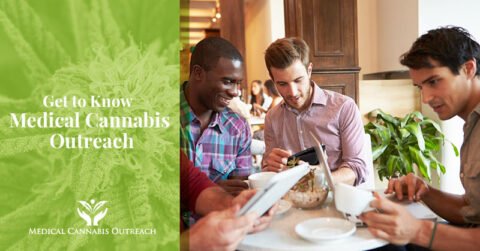 The intention of Medical Cannabis Outreach is very simple — to help people who are suffering. But what does that really mean? Medical cannabis, also known as medical marijuana, has been a topic of much discussion recently. Many states have legalized it for both medicinal and recreational use, but for the residents of Illinois, that's not the case.
A Brief History
Medical Cannabis Outreach began in Colorado, where the owner and founder, Eric Sweatt, worked as a medical marijuana cultivator. It would be through his sincere interest and passion for the benefits of medical cannabis that he started growing plants for people (six per patient), learning about proper dosing, and helping them find a medical marijuana doctor to start the process so they could legally get a medical marijuana card.
Eventually, Eric and his wife, Caprice Sweatt, co-founder of Medical Cannabis Outreach, moved to Illinois to continue doing the work they are so passionate about. They started off holding seminars for prospective patients back in 2015, and now have eight locations throughout Illinois, Colorado, and Missouri where residents have access to all the services they need to get a medical marijuana license. This includes everything from getting qualified by a medical marijuana doctor, submitting an application, and paying the mandated state fee to get their photo and fingerprint taken for the medical card itself.
It's a true testament to the Sweatts' passion for helping people that they have stayed persistent in keeping their business up and running, even when obstacles arise. And they have overcome a lot.
The Difference With Illinois' Laws
Unlike many Midwestern states, Illinois has strict laws with regard to medical cannabis use. And just like anything else that involves needing a license or permit from the government, the process is not always quick and easy. The advocates at Medical Cannabis Outreach see this as an injustice to sick and suffering people who really need the medicine to live comfortable lives, and so their business model is to hold the patient's hand through the entire process in order to help them get the treatments they deserve.
There are no traditional doctors at Medical Cannabis Outreach, and they do not operate in a doctor's office. They simply charge a reasonable fee to help sort through all of the requirements of getting into the program, which is similar to having someone help with their taxes. That's a lot of paperwork to work through, and often you're not even sure you're doing it right. Having a medical cannabis professional guide you through the medical marijuana card process makes what would have been a stressful time much easier for victims of chronic pain and illness.

Requirements to Qualify
In Illinois, you also need to have a qualifying condition and a doctor's referral in order to qualify for a medical marijuana license. Physicians are the "gatekeepers" for getting into the program, and Medical Cannabis Outreach has built relationships with different doctors throughout the state who understand the benefits of medical cannabis and are willing to give their referrals. The entire staff at Medical Cannabis Outreach is made up of knowledgeable medical marijuana professionals who are there to guide you through the intricate process of filling out the paperwork that's required and getting your photo and fingerprint taken, as well as knowing when to mail things, when to fax things, etc.
The point of it all is that patients just want relief from a chronic illness that has been plaguing them — sometimes even for decades. They also don't want to be taking copious amounts of opioids or other drugs that are highly addictive and could be dangerous. In this respect, medical cannabis is much safer than any other drugs a doctor prescribes, in addition to being far less addictive. Also, since medical marijuana is a newer industry in Illinois, there are some organizations that are still taking advantage of sick people by charging them fees for services that should be free or overcharging them for services that should be reasonably priced.
We Look Forward to Helping You
If you are suffering from one a chronic illness or are taking care of someone who is, contact us today, or visit one of our locations in Savoy, Pekin, Harrisburg, Shelbyville, Wood River, and Wicker Park, IL. Or, if you live in Colorado or Missouri, we invite you to check out our new locations in Loveland and Chesterfield. We look forward to starting a conversation and recommending ways to move forward in the process of seeking medical cannabis treatment.